🔥 Popular Free Downloads
All of our staff training manuals in one handy download!

A totally customisable free staff handbook download.

Keep on top of your expenses with our free profit and loss calculator.
⭐ Popular Resources
🔥 Popular Pages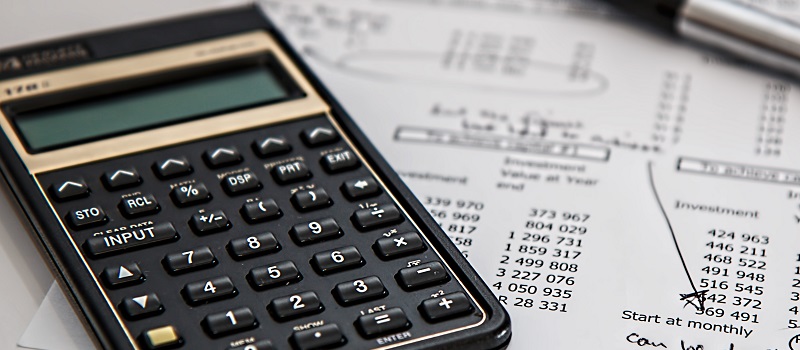 Cash Flow Explained
Free Excel Cash Flow Forecast Template Download
Written by The Restaurant Doctor UK Team
Last Updated: 20th October 2023
👉 Jump to the Free Cash Flow Template Download
Managing cashflow is an essential aspect of running a business, whether you run a hotel or a cafe. By keeping a close eye on your cash flow, you can anticipate potential problems, make informed decisions, and ensure the financial health of your business.
Our free Excel cash flow template spreadsheet is specifically designed to help business owners in the UK with their cash flow management and projection needs.
What's on this page:
Why Cash Flow Management Matters
Cash Flow Projection
Example Cashflow Statement
Using Our Free Cash Flow Spreadsheet
Free Cashflow Download

Why Cash Flow Management Matters
Effective cashflow management involves tracking the inflow and outflow of cash within your business. It helps you identify potential cash flow problems, allowing you to address them before they become critical.
With our free Excel cash flow template, you can easily monitor your business's financial performance and make necessary adjustments to maintain a healthy cash flow.
Cash Flow Projection
Cash flow projection is an essential tool for planning your business's financial future. Our cash flow template includes a built-in projection calculator that helps you estimate your future cash inflows and outflows, enabling you to make informed decisions about investments, staffing, and other business expenses.
Example Cash Flow Statement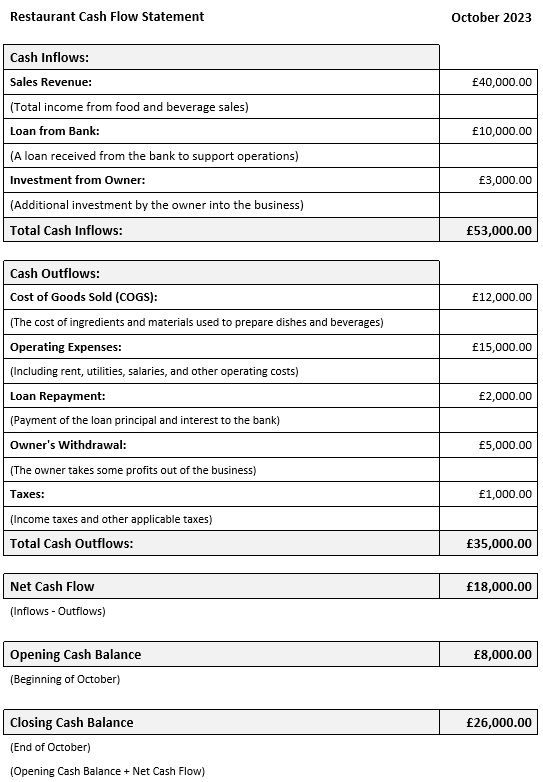 This example restaurant's cash flow statement for October 2023 reveals a positive financial performance.
During the month, the restaurant received a total of £53,000 in cash, primarily from £40,000 in sales revenue, supported by a £10,000 bank loan and a £3,000 owner's investment. The restaurant's cash outflows, totalling £35,000, included expenses such as ingredient costs, operational expenses, loan repayment, owner's withdrawals, and taxes.
This resulted in a net positive cash flow of £18,000 for October and an ending cash balance of £26,000.
Benefits of Using Our Template
Our free Excel cash flow template offers several advantages for cafe and restaurant owners, including:

✔ Easy-to-use formula: The template includes pre-built formulas that automatically calculate your cash flow, allowing you to focus on running your business.
✔ Customisable for your restaurant: The template is designed specifically for cafes and restaurants in the UK, ensuring that it meets your unique needs.
✔ Save time and effort: With our free cash flow spreadsheet, you don't need to create a cash flow management system from scratch or spend money on expensive software.
Cash flow management is crucial for the success of any cafe or restaurant. Our free Excel cash flow template is designed to make this process simple and efficient, helping you to identify potential cash flow problems, create accurate projections, and make data-driven decisions for your business.
Cash flow is used in conjunction with profit and loss and balance sheet statements to give a more complete financial picture of a company.
The profit and loss (p&l) statement shows revenue, expenses, and net income, while the balance sheet provides a snapshot of assets, liabilities, and equity at a specific point in time.
The cash flow statement shows the inflow and outflow of cash during a period. By examining these statements together, a company can better understand its financial health, including liquidity and solvency, and how it generates and uses cash.
Download our free cash flow spreadsheet today and start optimising your cafe or restaurant's financial performance.
To download your free cashflow template, click on the link below
You may also like...
Elevate your bar and cellar management skills with our comprehensive and engaging free online training programme. From inventory control and product rotation to maintaining optimal storage conditions, our expert-led training covers it all.
Don't miss this opportunity to transform your skills and boost your career – click here to access our free online bar and cellar management training and start making a difference today!