🔥 Popular Free Downloads
All of our staff training manuals in one handy download!

A totally customisable free staff handbook download.

Keep on top of your expenses with our free profit and loss calculator.
🔥 Popular Pages
⭐ Popular Resources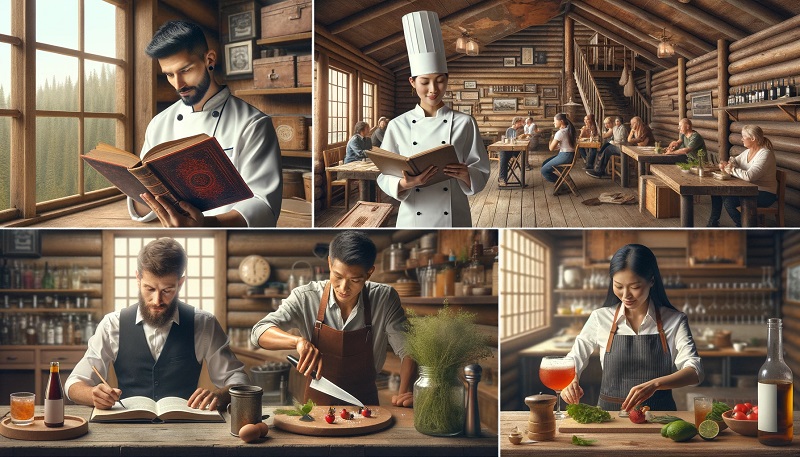 Free Restaurant Staff Training Manuals
Created by The Restaurant Doctor UK Team
Last Updated: 27th October 2023
Embarking on a journey to elevate your restaurant management skills? We present a suite of SIX essential training manuals, meticulously crafted by industry professionals to enhance your capabilities. And here's the best part: this entire collection is available for FREE download! Absolutely no strings attached.
Why Choose Our Free Training Manuals?
✔ Completely Free: Access this treasure trove of knowledge without spending a penny.
✔ Authored by Experts: Written by seasoned professionals, ensuring that you receive insights that are tried, tested, and true.
✔ Quality Content: Recognised for excellence, our training manuals stand out in a competitive landscape.
✔ Endorsed by Leaders: As the UK's foremost restaurant and bar manager training and resource platform since 2007, our expertise is unparalleled.
Seize this Opportunity! Don't miss out on this incredible offer. Enhance your skills, boost your restaurant's performance, and do it all without any hidden costs or obligations. This is our way of giving back to the community that has supported us throughout the years.
Dive Deep into Key Restaurant Management Topics
1. Bar & Cellar Management

Mastering the operations behind the bar is integral to a thriving establishment. Dive into the intricacies of effective bar and cellar management to ensure seamless service and profitability.
✔ Effective stock management: order, rotation, and storage.
✔ Changing barrels, kegs, gas, and post mix.
✔ Bar and cellar hygiene.
✔ Stock display and promotion strategies.
✔ Staff training.
✔ Legal responsibilities and more.
2. Customer Care & Complaint Handling

Exceptional customer service is the cornerstone of a successful restaurant. Equip yourself with the tools to foster loyalty and handle complaints with grace and efficiency.
✔ Creating unforgettable first and last impressions.
✔ Ensuring consistent service quality.
✔ Understanding the customer experience.
✔ Enhancing non-verbal communication.
✔ Viewing situations from a customer's lens.
3. Human Resources Management

Your team is your most valuable asset. Delve into the art of HR management to attract, retain, and nurture top talent, ensuring your restaurant's continuous growth.
✔ Strategic human resource planning.
✔ Effective staff sourcing and research.
✔ Performance assessment and management.
✔ Staff development and training.
✔ Employee retention strategies.
✔ Grievance and disciplinary best practices.
4. Fire Safety & Awareness

Safety is paramount. Gain a comprehensive understanding of fire safety measures to protect your establishment, staff, and customers.
✔ Understanding fire origins and progression.
✔ Identifying various fire types.
✔ Adopting fire prevention best practices.
✔ Immediate actions upon fire discovery.
✔ Legal responsibilities and the use of firefighting equipment.
5. Time & Stress Management

In the fast-paced world of restaurant management, time is gold. Learn strategies to maximise productivity while maintaining a balanced and stress-free environment.
✔ Prioritising effective time management.
✔ Analysing time allocation.
✔ Organising daily tasks and using planners.
✔ Creating a stress-free workspace.
✔ Delegating tasks effectively.
6. Marketing & Advertising

Harness the power of strategic marketing and advertising to amplify your restaurant's reach and reputation. Unlock the secrets to effective promotions and distinguish your brand in a competitive marketplace.
Understanding the essence of marketing.
✔ Exploring the Marketing Mix.
✔ Monitoring the competition.
✔ Identifying your target market.
✔ Advertising tips and tricks.
✔ Running impactful promotions.
This collection is an invaluable asset, whether you're in the office, on the restaurant floor, or refining your strategies at home. Drawing from real-world experiences, our manuals offer tangible advice to help you navigate the intricacies of restaurant management. With 24/7 access to expert insights, be equipped to handle any challenge that comes your way.
Act Now and Elevate Your Restaurant Management Game!
Don't let this golden opportunity slip through your fingers. Click below and access the wealth of knowledge these manuals offer. Remember, it's completely free, and there's nothing to lose. Transform your restaurant business and become the success story you've always dreamt of.
To download your free restaurant staff training manuals click on the link below
You may also like...
Looking to borrow money or wanting to apply for a credit card, mortgage, overdraft, business loan or even car insurance for your restaurant? This article covers the areas you need to consider when applying for finance, borrowing money and applying for credit for your business. Looking after your money is important, especially money you borrow.